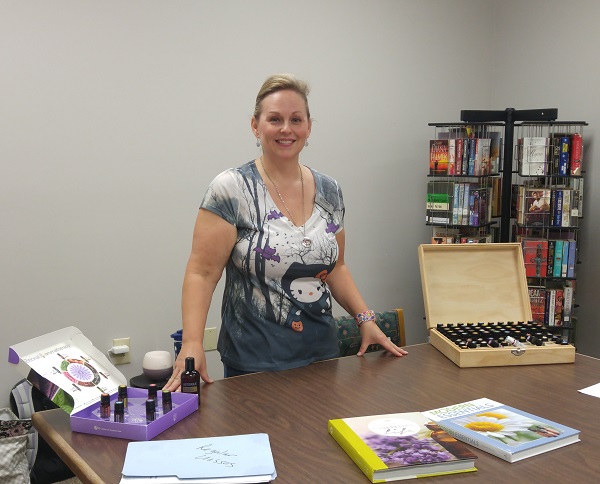 The Introduction to Essential Oils Class, presented by Lori Bourgeois, RN, was a success.  Fifteen attendees came to the Thursday, Oct. 6. event and learned about the benefits and use of essential oils, as well as some information on how flour and sugar affects health.
Lori was assisted by two wellness advocates, Pam Hoyle and Lindsay Rapp.  Specific benefits of individual oils were discussed, as well as how different oils are used aromatically, topically, and/or internally.  In addition, attendees tried various oils, and samples were given out at the end of the presentation.  Lori stressed the importance of using good quality, therapeutic-grade oils that have gone through third-party testing.
Lori herself is a user of oils and does not consume sugar or flour.  In 2014, health problems motivated her to become a user of essential oils; she needed non-toxic products because her body could not detox.  As a nurse, Lori found she couldn't pass the information she discovered along to those it could help, so she began giving presentations at libraries, as in-home classes, and one-on-one health overviews.  She also makes a showing at vendor fairs and has been giving presentations since February 2015.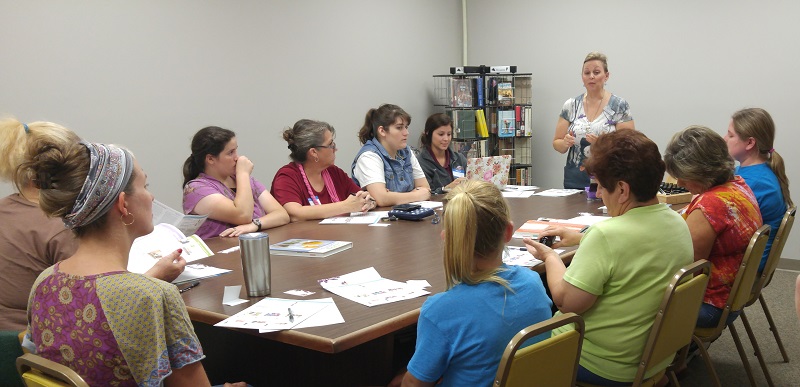 The next presentation will be at a vendor fair Sunday, Nov. 13, at Bloomsdale's Knights of Columbus building.
Afterwards, she will return to the Ste. Genevieve County Library and present a specialty class, "Healthy Days and Healthy Nights," on sleep health and the benefits of oils.  This will be held in the meeting room of the library on Wed., Nov 16, from 6:00 p.m. to 7:30 p.m.
If you would like to contact Lori Bourgeois about the class or for more information, please email her at lbourgeois32@gmail.com.  Alternatively, you may contact her by phone at (636) 452-3337 or by cell at (314) 803-4067.  She also has a webpage: http://www.mydoterra.com/loribourgeois.
Last but not least, we would like to thank Lori and her assistants Pam and Lindsay for the wonderful presentation, the Friends of the Library group for making the arrangements, and the participants for making this class a success.  We are looking forward to Lori's return in November.