Story Time is Back!
Join us for story time in the children's area on Mondays at 10:00 AM!
Miss Gabby will read books and help make crafts.  Story time is recommended for children to ages 0-5.
Children must be accompanied by an adult.
Can't make it on Monday morning?  Please take our survey at the circulation desk and let us know what time works best for you!
Craft Example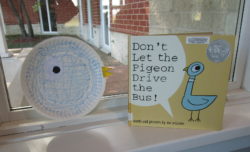 At our first story time, Miss Gabby read Don't Let the Pigeon Drive the Bus! by Mo Willems, then helped the kids make their own Pigeon to take with them